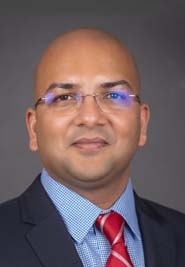 Sudhir Jain
Head of New York Office & Managing Director
30 Rockefeller Plaza, Suite 2020 New York, NY 10112
Mr. Jain advises clients on risk management, regulatory strategy, and compliance solutions based on nearly two decades of experience in these fields. At Patomak, he has assisted crypto-derivatives trading firms frame and implement the strategy around CFTC and SEC registrations. Mr. Jain also served as the Chief Risk Officer for a swap dealer (SD) registered with the CFTC.
Prior to joining Patomak, Mr. Jain was a Director at the National Futures Association where he managed the examination and oversight program for over forty swap dealers (SD) across the world. He led many strategic projects, including the implementation of NFA's oversight program for SD capital requirements and the rollout for the Swaps Proficiency Requirements, which is a mandated exam for swap traders. In this role, he also spearheaded coordination with various U.S. and non-U.S. regulators.
Mr. Jain was also an Executive Director at JPMorgan Chase. There, he managed the firm's risk policies and procedures across all lines of business globally. He led the development of e-training modules on firm-wide risk policies for over 20,000 risk managers and traders. He also managed the preparation of monthly risk bulletins summarizing key policy and procedural changes, which were distributed to over 35,000 employees.
Earlier in his career, Mr. Jain worked at Cognizant Technology Solutions where he led a large team of consultants working on risk management and compliance engagements for major U.S. banks. He advised clients on the documentation, design, and implementation of their risk governance framework as well as risk models. Before Cognizant, Mr. Jain worked as a Risk Manager with the Securities Trading Corporation of India, where he managed market risk for the firm's fixed-income portfolio and performed credit analysis for major banks and corporations.
Mr. Jain holds an MBA and has completed a crypto-focused executive program from MIT Sloan School of Management. He also holds Financial Risk Manager (FRM) and Certified Fraud Examiner (CFE) certifications.