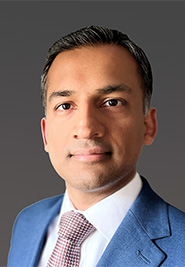 Hemal Patwa
Manager
30 Rockefeller Plaza, Suite 2020 New York, NY 10112
Mr. Patwa brings more than fifteen years of Market Regulation experience in financial services to his work at Patomak. His work focuses on advising clients on enhancing their regulatory and compliance programs as well as identifying risks in potential transactions.
Prior to joining Patomak, Mr. Patwa served as Vice President with J.P. Morgan in both the retail and institutional surveillance teams. He worked on various compliance reviews within the equities trade surveillance team to detect potential manipulative activity related to insider trading, spoofing, wash trades, and front running. He assessed and identified areas of enhancement within the surveillance team and participated in drafting business-required documents, conducting UAT testing, and providing risk assessment guidelines to management. Additionally, Mr. Patwa partnered with advisory and line of business compliance teams to review and resolve exceptions from regulatory exams and respond to trade inquiries from various regulatory bodies.
Prior to J.P. Morgan, Mr. Patwa worked with the market regulation team at FINRA and NYSE Regulation. He was specifically involved with the market manipulation team which identified potential violations of rules and regulations as well as manipulative activity. The activity included Regulation M, Regulation NMS, Market Access, and various other potentially manipulative transactions. He also led the team in preparing written analysis, drafting memoranda, and referring violative conduct to the U.S. Securities and Exchange Commission or internal Legal Division.
Before starting his work with regulation, Mr. Patwa worked within the Corporate Actions team at Morgan Stanley focusing on risk analysis and handling inquiries related to corporate action events. Mr. Patwa earned his B.B.A. in finance from the Zicklin School of Business at Baruch College in New York.